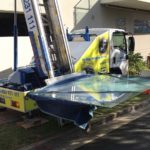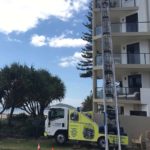 Unique external truck elevator lifting hoist
Fast, safe and efficient
Lift bulky items and materials over (or out of!) balconies, verandahs or roof areas
quickly where access is problematic
For both business and families
No need for scaffolds or a large crane on site
No more stressful lifting heavy items
Quicker than traditional moving
Less chance of injury to people
Avoids hazards of narrow doors, lifts and stairwells
Eliminate access problems with OzHoist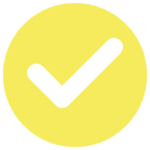 High-rise home removals without the hassle of lifts, narrow hallways or carparks.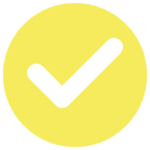 When it can't fit through the door, let us deliver your fridge or new furniture over the balcony.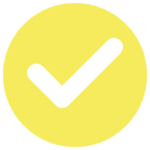 We provide a safe and quick transfer of your building supplies.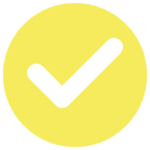 We simplify deliveries to your townhouse, unit, multi-storey home or highrise apartment.
The OzHoist hoist lift is capable of lifting construction and building supplies or can speed up your home move.
Our crane hoist lift service can cut down move time for two-storey homes, townhomes or apartment buildings up to 9 floors. We quickly and safely solve the issue of access by directly delivering or removing your possession from your balcony, window or rooftop (for building sites).
When access is a problem, we can eliminate the need to manoeuvre awkward, heavy items.
By using our external moving hoist you can avoid damaging your valuable personal possessions by eliminating the need to maneuver items through the maze of apartment buildings. Lifting your furniture means no more
waiting for neighbours to pass in hallways and delays with building lifts
worrying about small lifts
carrying heavy furniture up narrow stairways
navigating narrow internal corridors
attempting to squeeze your valuables through small doorframes
Ozhoist lifting services takes the hassle and impossibility out of moving big items up multiple story buildings and can complete your big move much faster.
Our professional hoist lift can quickly transfer your large furniture or building materials from the street to a window, balcony or roof area without the need for scaffolds or a large crane on site.
As well as supplying our hoisting truck with a friendly, trained operator, we ensure you get your furniture or building materials safely over your balcony, onto your roof or through your window opening.
There are many benefits of OzHoist external truck elevator to hoist your possessions
No more stressful lifting heavy items
Reduced risk of damage to your belongings or building materials being carried and squeezed through tight entries
Quicker than traditional moving
Less chance of injury to people
Avoids hazards of narrow doors, lifts and stairwells
Needing a lounge, dining table, fridge, maybe some building materials moved up or down floors of a building in Brisbane, the Gold Coast or the Sunshine Coast?
At OzHoist we help both businesses and families lift a variety of bulky items up and over balconies and verandahs (and out and down too!).
We specialise in moving heavy furniture and building materials using balcony our truck mounted platform hoist lift. We can help you with your personal or business hoisting needs.
Oz Hoist's lifting service is ideal for bulky items and building materials that don't fit in a lift or stairwell:
Lounges
Windows and Glass
Fridges
Solar Heating Units
Skylights
Aluminium Shutters
Antiques
Air Conditioning Units
Roofing
Heavy Furniture
Large Artwork
New designer furniture
Pianos
Spa Baths
Big Screen Tvs
Frames
Plumbing Supplies
Tables
Household Removals
Bathtubs
Wood and Joinery
Marble Benchtops
New Kitchen Appliances
Plasterboard
Glass Splashbacks
Buffet Units
Large Pot Plants
Boxes
Heavy Building Materials
Pool Tables
Flatpack Supplies
Cabinetry
Solar Panels